Key Milestones for 2021 Annual Report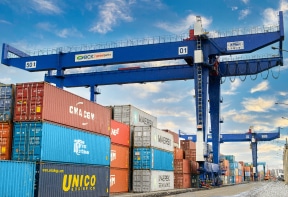 january
VSC's two newly commissioned RMG cranes start operations, enabling containers to be stacked in 14 rows, doubling the tier capacity to six. This installation, alongside upgrades to the area in March, increases VSC's container storage capacity to 27 thousand TEU.

march
Global Ports launches project to optimise berth allocation at FCT and PLP in the Greater Port of St. Petersburg. Based on the Portchain intelligent online platform, the system increases the visibility of operational processes and makes resource planning more efficient, providing customers with real-time monitoring of berths and cargo handling status.
The Group redeems its FCT-03 rouble bond, completing the refinancing of RUB 15 billion of expensive debt issued in 2015–2016 (FCT-01, FCT-02 and FCT-03). The FCT bonds are refinanced on better terms or fully repaid, lowering interest costs and further reducing debt.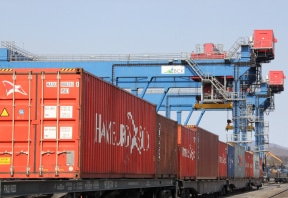 april
VSC starts its service for the new transcontinental service Maersk AE77. Containers are transported from Asian countries via the Russian ports of Vostochny and Novorossiysk onto the Black Sea and Eastern Mediterranean.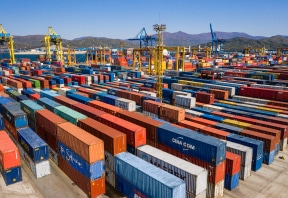 may
The rating agency RAEX (Expert RA) upgrades Global Ports' credit rating by two notches, from 'ruA+' to 'ruAA' with stable outlook.
VSC monthly container throughput exceeds 51 thousand TEU setting a new record in monthly performance of the terminal.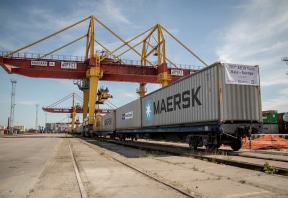 july
VSC and FCT register the 100th container train of the regular transcontinental intermodal service Maersk AE19, organised in partnership with Global Ports and the transport company Modul. The containers arrive by sea from China, Korea, and Taiwan to VSC, where they are loaded on a train and shipped to St. Petersburg, loaded onto a Maersk vessel at FCT, delivered to Poland and then onto the United Kingdom.
PLP installs a video surveillance system on its ship-to-shore (STS) gantry cranes. The equipment will improve the operator's visibility and enhance the safety of ontainer handling.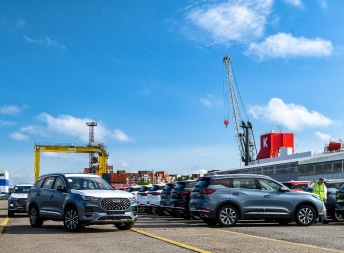 august
Moby Dik starts handling Ro-Ro cargo, following a successful pilot trial involving a Ro-Ro vessel laden with cars. The terminal handles 4 thousand cars and 270 thousand tonnes of bulk freight during 2021, confirming the success of the terminal's transformation.
september
VSC halts coal handling services to focus on more environmentally friendly and rapidly growing container cargo.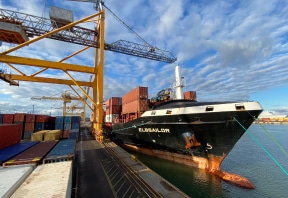 october
MLT-Helsinki, a JV between Global Ports and CMA Terminals, begins working with CMA CGM. A new scheduled call at MLT-Helsinki provides weekly container transportation between Helsinki and Northern European ports using Unifeeder vessels.
november
VSC successfully places RUB 7.5 billion of non-convertible 5-year interest-bearing bonds with a fixed interest rate of 9.55% per annum. The proceeds from the issuance help refinance the Group's existing debt, reducing interest payments and minimising foreign exchange risks by aligning the debt portfolio with the Group's FX currency composition of revenue.
VSC and Solvo complete testing of its new terminal operating system (TOS). TOS enables real-time tracking of all ship and container handling procedures at the terminal and critical functions like operational accounting, warehouse management, railway container handling and planning, vehicle handling, and oversight of containers during customs clearance.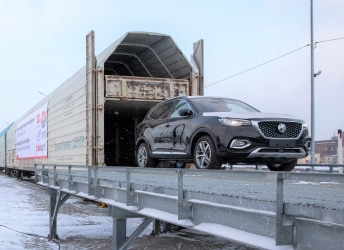 december
Moody's Investors Service upgrades Global Ports' credit rating to Ba1 from Ba2.
PLP is chosen to handle transit cars from China to Europe as part of a new railway-sea service, organised by a consortium, consisting of Russian Railways, NYK Auto Logistics Rus, a leading supplier of finished vehicle logistics in Russia, and Sino-Worlink Special Cargo Railway Logistics Co (SSCR), a leading Chinese rolling stock operator.